NEWS
December 01 2016
We're excited to bring back our Hot Winter Promo again for 2016! Buy any new TerraTrike from now (December 1, 2016) through December 31st, 2016 and get a voucher for up to $200 towards our great TerraTrike branded accessories.

Get the trike you've been thinking of, then outfit it with the hottest accessories for what you do, for free!

To learn more or get your voucher, click here: TerraTrike Hot Winter Promo 2016
November 28 2016
For a limited time you can purchase a TerraTrike Traveler 8 speed, Base or GT, and get a FREE Soft Case! Offer available while supplies last. Learn more about this great deal!
November 23 2016
This holiday season, help inspire new trike riding adventures for your friends and family! Check out the TerraTrike Gift Guide, packed full of goodies to ensure joy and happiness in every trike lover in your life. Share the fun of trike riding!

Click here to check them out!
November 21 2016
TerraTrike will be closed on Thanksgiving day (Thursday) as well as the Friday after to allow our staff to enjoy the holiday with their families.

We will be back open on Monday November 28th

Watch the website on Friday for our Black Friday specials and holiday gift buying guide!

Terratrike wants to wish everyone a happy Thanksgiving!
November 01 2016
Dealer of the Year is an award offered to the dealer who exemplifies an outstanding partnership with TerraTrike. This dealer does a phenomenal job representing TerraTrike as a whole from offering the entire line, keeping up to date with product knowledge, and providing unsurpassed customer service. Ultimately this dealer creates the best TerraTrike experience possible and truly acts on being Part of the Solution. This designation comes with the privilege to hang a Dealer of the Year plaque in their store along with the rights to advertise their achievement online.
Each year the staff at TerraTrike vote on Dealer of the Year as nominated by the Dealer Sales Team. This year the nominees were West Michigan Bike and Fitness of Grand Rapids, MI, Real Bikes of Venice, FL, and Sun Cyclery of Phoenix, AZ. All three of these dealers are deserving, but for the 2015-2016 season, we are proud to announce Sun Cyclery as Dealer of the Year! Sun Cyclery has been a legendary bike shop in Phoenix since 1976. They have built their reputation from offering quality products, professionalism, and extraordinary customer service. Although to most, their greatest strength is listening to their customers and addressing their needs.
This season, Mike, Larry, and the entire Sun staff have demonstrated their commitment to TerraTrike and its customers at a high level. They have been tremendous brand ambassadors and have supported TerraTrike by attending events showcasing the brand. Sun also offers the entire line and gets people on trikes that best fit their needs. Lastly, they have done a marvelous job displaying the trikes and they even stock up on parts to help get customers on the road faster if a breakdown occurs. Overall, Sun Cyclery is a superlative partner in all facets imaginable. We at TerraTrike are extremely proud to have them as our partner and congratulate them for their success!
Top 10 Dealer List
Making the Top 10 Dealer List is no easy task. Generally speaking it takes an unwavering commitment from our dealers not only to carry the full line, but to promote the lifestyle that TerraTrike represents. So, we are proud to present the 2015-2016 TerraTrike Top Ten Dealer List!
West Michigan Bike and Fitness - IBD
Located in Kentwood, Michigan, this is a 3rd generation bike shop ran by Evert, Evert, and Evert. They operate 3 gorgeous stores and are a top Trek dealer. We are proud to work with them!
Northwest Recumbent Cycles - Recumbent
Located in Post Falls, Idaho, owner Gary is a former sheriff and draws customers to his location from around the world!
Barr Bike and Fitness - IBD
Located in Clive, Iowa, Barr Bike & Fitness is a perennial Top Ten Dealer and former Dealer of the Year. They are also connected to a world-renowned music shop adding a fun element to Barr Bike.
Laid Back Cycles - Recumbent
Located in Fair Oaks, California, they are a previous Dealer of the Year and consistent Top Ten Dealer even though they have battled droughts, forest fires, and floods!
Sun Cyclery - IBD
Located in Phoenix, Arizona, they are the 2016 Dealer of the Year, and often land in the Top Ten. This dealer does a great job of reaching their community through monthly events and Mike the salesman is originally from Michigan!
Dogwood Junction - IBD
Located in Siloam Springs, Arkansas, they are a consistent Top Ten Dealer and achieve this through offering plenty of events and rides. In fact, Ben the owner just rode 1000 miles to TerraTrike!
Penn Cycle - IBD
Located in Minnesota, Penn Cycle is a nationally renowned 7-door operation, and a consistent Top Ten Dealer. This is also the home of legendary 30+ year general manager Bill Randen who started with Penn back in 1977.
Easy Street Recumbents - Recumbent
Located in Austin, Texas, they are a prominent recumbent shop enjoying their first year in the Top Ten as they experience extreme growth with TerraTrike. Also, Micah the sales manager is an avid Jaguar enthusiast!
Angle Lake Cyclery - IBD
Located in Seattle, Washington, the owner and operator Dale works very closely with the VA and is passionate about unique items like crazy themed waffle makers!
Amlings Cycle - Recumbent
Located in Chicago, they have become the go to shop for recumbents in the area by holding several events and rides for the community. We are proud to see them excel this year with massive growth.
Top 20 Dealer List (11-20)
11. Bicycle Stop - Springfield, OH
12. Recumbent Bicycles of Tennessee - Murfreesboro, TN
13. Real Bikes - Venice, FL
14. Northtowne Cycling and Fitness - Cedar Rapids, IA
15. Eddy's Bike Shop - 4 stores in Northeast Ohio
16. Paradise Bicycles - 2 stores: Cape Coral & Fort Myers, FL
17. Bicycle Man - Alfred Station, NY
18. Planetary Cycles - Houston, TX
19. Angletech - Colorado Springs, CO
20. David's World Cycle - Multiple locations in FL

September 27 2016

Under blue skies, and with cheering friends and family, Ben Jones and Phil Fletcher took off on their TerraTrikes for the first leg of their 1000 mile 'Freedom Fund' ride!
Their journey will take them from Siloam Springs, Arkansas to Grand Rapids, Michigan, and their plan is to complete the ride in two weeks time. Passing through five states as they wind their way north, they hope to raise awareness and funds for veterans with disabilities.
Ben and Phil are working along with Arkansas Freedom Fund to help Arkansas soldiers with disabilities gain mobility and freedom on recumbent trikes. Ben Jones, the owner of Dogwood Junction Bike Shop in Siloam Springs, has already helped many veterans regain their mobility with recumbent trikes, and he has witnessed first hand the many benefits and improved health that trikes can provide. He hopes this ride can help more veterans experience that freedom.
---
Check out their planned
route
and see if they are passing through your community!
---
You can learn more about the 'Freedom Fund' ride and make a donation here:
Freedom Fund Ride
---
Ben is also posting photos and updates during the ride on the Dogwood Junction Facebook page:
Dogwood Junction - Bike Shop
---
September 14 2016

A diagnosis of multiple sclerosis led Greg Davis, owner of Your Trike Spirit in Deer Park, NY, to start a business! Following the diagnosis, Greg was thankful he could still drive, but he really missed bike riding. When he discovered recumbent trikes, he was inspired to open Your Trike Spirit and spread the word. Read Greg's story here.
August 30 2016
PRESS RELEASE

TerraTrike, the world's largest manufacturer of recumbent trikes, will now be distributing some hard to find 20" (ISO 406) and 24" (ISO 507) tires that are manufactured worldwide by Schwalbe Tires (Ralf Bohle GmbH). Models like the Big Apple, Land Cruiser and Tryker and long time standards like the Marathon can now be easily acquired.

"Now bike shops can enjoy one-stop shopping for nearly all of their trike and tire needs." Jeff Yonker, Marketing Director of TerraTrike continues, "This is a unique partnership in that we are now distributing tires for trikes that were previously hard to find through normal distribution channels. It allows our dealers to purchase trikes and tires on the same order with one phone call."

Owned by the Bohle family since its establishment in 1922, Schwalbe is now being managed by the third generation with headquarters in Germany and subsidiaries in USA/Canada, France, Great Britain, Italy, and the Netherlands – plus distributors in over 40 countries.

They are the specialists, "tire fanatics" and 100% committed to bikes as well as wheelchairs. Their tires are not available everywhere, but exclusively from quality distributors and specialty shops that adhere to Schwalbe's strict guidelines of expert advice and excellent customer service.

"We are thrilled to be partnering with TerraTrike" states Celeste Steindl, Director of Schwalbe Tires North America, "because we know they share the same high standards we hold ourselves to in providing the best products and customer care to our global clientele."

Since 1996, TerraTrike has been focused on recumbent trikes and accessories. This partnership creates a blend of top-rated tires and top-rated trikes to the benefit of IBDs throughout the USA and beyond. If you are an IBD and are not yet an Authorized TerraTrike Dealer, you can still purchase tires through TerraTrike. Contact TerraTrike Dealer Sales at 616-608-8086 or go to their website at www.terratrike.com.
August 15 2016
BentRider's Bryan Ball recently reviewed the Sportster, and compared it to the competition.


"... One thing that struck me about the Sportster is that it's great for a lot of things. I wouldn't put it in the same performance class as some of the really fast racing trikes, but it's fast enough for sure. It's also very easy to get in and out of, with its higher seat and handlebar design. The riding position and seat are comfortable for multi-day tours. It can also easily accept a myriad of racks, fenders and accessories."
The new Sportster is available at your
local dealer
or you can find out more by
clicking here
.
Read the complete review here.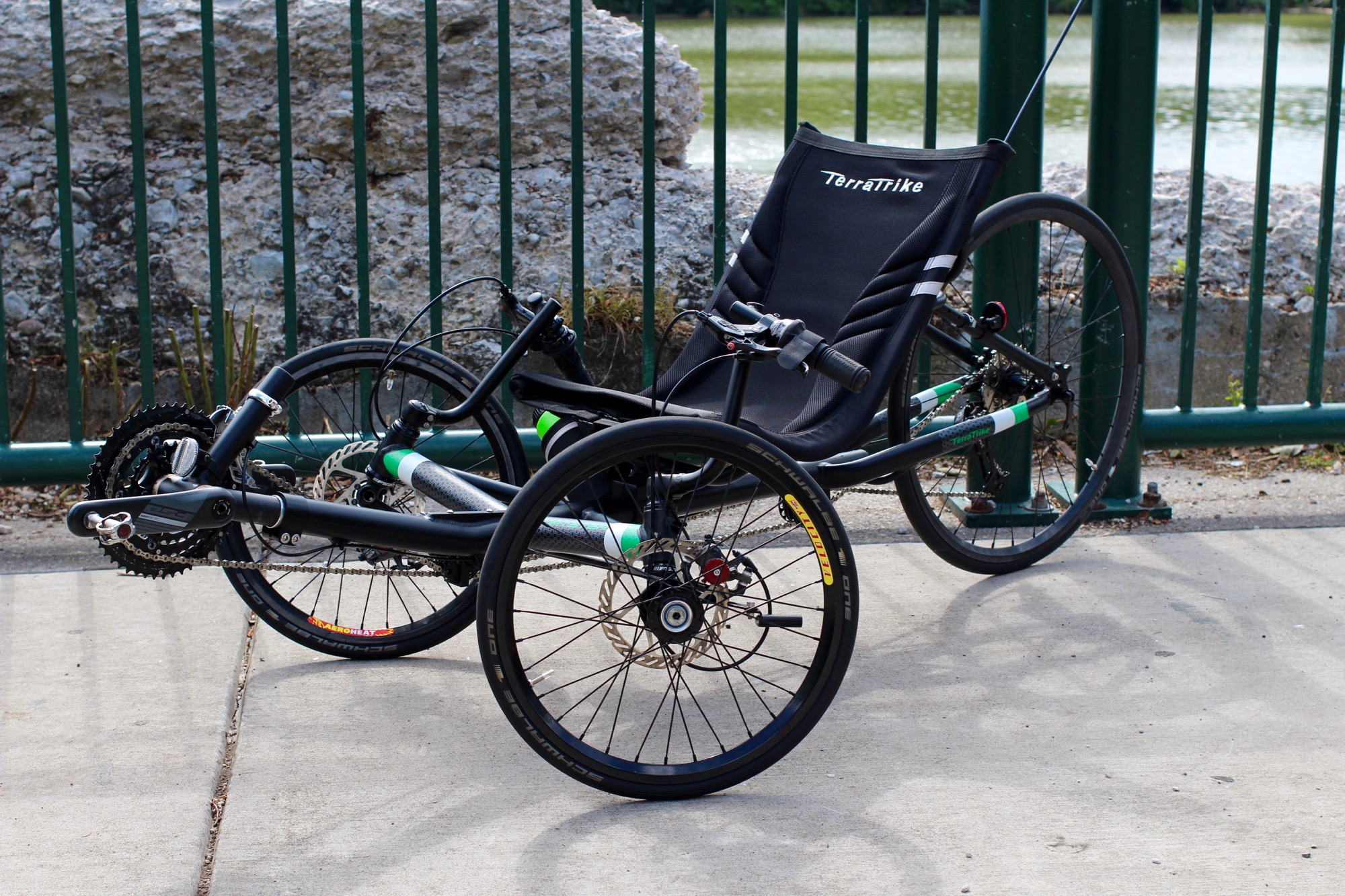 July 21 2016
TerraTrike has been featured in a Rapid Growth Media article titled "Beyond the Mitten". The article showcases West Michigan businesses that are changing the state, country and world.


When it comes to products changing the state, country and world, West Michigan should not be overlooked. This area is a hub for an incredibly diverse group of companies that have their sights set on success, and their efforts are making the globe more environmentally friendly, a better place for those battling mental health issues, increasingly delicious, and an all-around more interesting place to be. Some companies grew out of an idea, a sketch on a cocktail napkin or a simple observation at a construction site right here in West Michigan.

Recumbent triking is the fastest growing niche in the biking industry. If you've never heard of it, it's time to change that. Terra Trike is the largest manufacturer of trikes — think reclining tricycles for adults (and children) — worldwide, selling more than all their competitors combined...and they are located in Grand Rapids. In 1996 two old buddies met up at a Christmas party, where Jack Wiswell showed Jack Oom a bike idea he had sketched out on a cocktail napkin — and Terra Trike was born.
Click here to read the entire article