NEWS
May 01 2017
Online recumbent forum BentriderOnline.com has posted their review of the new Rambler AT.


As recumbent trikes take over more and more of the marketplace, people are expecting them to be able to all of the things their bikes do and the list keeps growing. One of those things on the wish list is off-roading. There have been a few off-road trikes over the last four years but almost all of them came with a wallet-shattering price tag. TerraTrike aims to change this with the new Rambler All Terrain.

As the name would indicate, the All Terrain is based on the Rambler but there are some major changes. The most obvious is the new 24" wheels shod with Schwalbe Smart Sam 24×2.10 tires. It also sports a very distinctive paint job. The main color is a medium forest greet and there are lots of orange accents. There's a bit of metal flake in it and photos don't really do it justice. It has whiff of hunting gear about it, but more like hunting gear made by Versace. I really like the look.
You can read the entire review by
clicking here
.
April 25 2017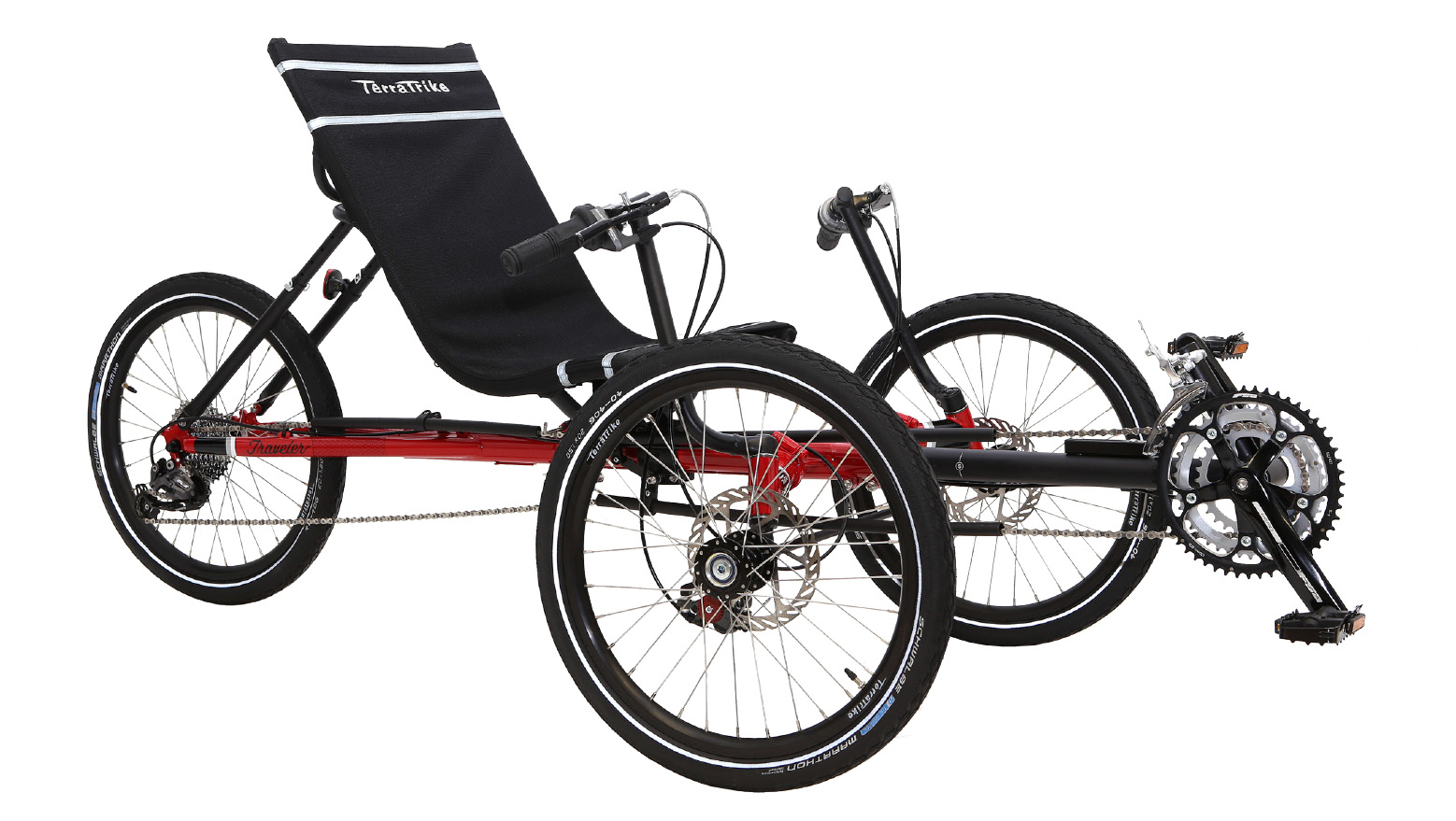 Bentrider Online, the leading authority on recumbent cycles just published a review of our Traveler folding trike.
Spring is here for those of us in the Northern Hemisphere! The closer we get to the sun and higher temperatures, the more our minds drift towards the adventures the warmer weather will bring. Some of those adventures may involve traveling to far off lands. Unfortunately, even most folding trikes don't really fold down enough to be avoid oversize charges on an airline. One exception is the TerraTrike Traveler.

The Traveler was introduced in 2015. At that time, several trike manufacturers were showing and promising "ultra-folders" designed for airline travel. Thus far, the Traveler is the only one to have reached production in meaningful numbers.

The general frame layout and steering geometry is largely the same as the company's popular all chromoly steel Rambler model. The major difference is the addition of three hinges that allow the Traveler to fold down into a shockingly small package. There is one hinge of the main frame tube as one would expect, but the Traveler's ace-in-the-hole is the two addition hinges located on either side of the cruciform closer to the front wheels.
You can read the entire article here:
http://www.bentrideronline.com/?p=11266
April 25 2017
One of the top RVing websites MRV The Buzz has just published an article featuring TerraTrike:
Besides comfort, the trikes offer an exciting time for its riders. "It is very much like a go-kart," Yonkers explains, "and when older people feel that, they immediately turn into a 10 year old." It is a social activity, too. When a person is on a bicycle they are usually hunched over, however on a trike a person is lounging and, since it is stable on three wheels, people can sit and talk to each other or pedal and talk to each other down the road.
You can read the entire article here:
https://mrvthebuzz.mobilerving.com/open-road-lifestyle/products-gadgets/excitement-in-the-outdoors-terratrike
April 13 2017
The Wheel and Sprocket Annual Bike Expo took place in Wisconsin in early April, and TerraTrike was part of the action!
Since 1984, the expo has been bringing outdoor enthusiasts together to check out the latest bikes, trikes and outdoor merchandise. With product displays from all the major manufactures, it's no wonder the expo is the largest event of it's kind in the nation. Milwaukee's 'Wheel and Sprocket' shop puts on the expo, and it's held at the Wisconsin State Fair Park. TerraTrike's Jon DeHate was on hand to answer questions from attendees.
The knowledgeable staff from Wheel and Sprocket, as well as other industry representatives, help guide attendees to make informed decisions about which bike and products are right for them. Wheel & Sprocket believes in bikes for everyone, and the Bike Expo Sale gives visitors a chance to sample a huge variety of bikes and trikes.
March 15 2017
Just in... Teardrop Flags to jazz up your trike!
Bright colors and bold graphics make these flags the perfect accessory to add to your trike! Made from sturdy nylon fabric, these colorful attention getting flags also feature reflective edging. Each flag measures 36" x 9" and comes with a 48" flag pole with flag clip. Check them out here: TerraTrike Teardrop Flags
January 23 2017
TerraTrike's booth was the place to be at the 2018 CABDA Expo!
TerraTrike's Dealer Sales team was busy spreading the word about TerraTrike - the most comfortable trike in the world! The CABDA (Chicagoland Area Bicycle Dealers Association) expo is a dealer-only trade show for Midwest bicycle retailers. CABDA is dedicated to the continued viability of independent bicycle dealers in the Midwest. The expo promotes advocacy, best practices, education, and social events.
TerraTrike's Steve, Joel, Jon and Luke spent the day talking with show visitors and potential TerraTrike dealers, explaining the various features of each TerraTrike. As always, TerraTrike test rides were a big hit, and gave many show visitors their first experience on a recumbent trike.
December 15 2016
TerraTrike will be closed the following dates for our bi-annual inventory and holidays:

December 16th - Closed all day for inventory
December 25-27 - Closed fro Christmas Holiday
January 1-2 - Closed for the New Years Holiday

Everyone at TerraTrike hopes you have a wonderful Christmas and New Years!
December 01 2016
We're excited to bring back our Hot Winter Promo again for 2016! Buy any new TerraTrike from now (December 1, 2016) through December 31st, 2016 and get a voucher for up to $200 towards our great TerraTrike branded accessories.

Get the trike you've been thinking of, then outfit it with the hottest accessories for what you do, for free!

To learn more or get your voucher, click here: TerraTrike Hot Winter Promo 2016
November 28 2016
For a limited time you can purchase a TerraTrike Traveler 8 speed, Base or GT, and get a FREE Soft Case! Offer available while supplies last. Learn more about this great deal!